Sixteen players from Strasbourg and the Racing Mutest Académie were called up by their respective national teams during this September international break. Here's a look back at the work done by our Bleu et Blanc.
Matz Sels – Belgium
It was nothing but success for Belgium and Matz Sels during the international break. Facing Azerbaijan and Estonia in Euro Qualifying matches, the Red Devils recorded two victories. Our goalkeeper remained on the bench during these two matches. In the standings, Belgium remains at the top of its group, level on points with Austria.
The results:
09/09/2023 (Bakou): Azerbaijan 0-1 Belgium
09/12/2023 (Brussels): Belgium 5-0 Estonia
Alaa Bellaarouch – Morocco U23
Like all Moroccans, these last few days have necessarily been difficult due to the dramatic earthquake that shook the country. Among several international matches played by the different Moroccan selections, Alaa Bellarouch and his teammates with the U-23s had time to achieve a prestigious victory in a friendly against Brazil; our goalkeeper was the starter.
The result:
09/07/2023 (Fès): Morocco 1-0 Brazil
Alexandre Pierre – Haiti
There was victory to be had for Haiti in its two CONCACAF Nations League matches. A starter in previous matches, Alexandre Pierre was this time a substitute.
The results:
09/08/2023 (San Cristobal): Haïti 0-0 Cuba
09/13/2023 (Kingston): Jamaïca 2-2 Haïti
Abakar Sylla – Ivory Coast
Called up with Les Éléphants of the Ivory Coast for an AFCON qualifier and a friendly, Abakar Sylla remained on the bench. The friendly match Mali even had to be stopped at halftime due to heavy rain.
The result:
09/09/2023 (San Pedro): Ivory Coast 1-0 Lesotho
09/12/2023 (Abidjan); Mali-Ivory Coast match stopped
Saïdou Sow – Guinea
Decisive! This is the word that could define the performance of young Saïdou Sow with Guinea against Malawi. Coming on play at the start of the second half, our 21-year-old central defender found the net ten minutes later. It was his first goal with the national team!
The result:
09/09/2023 (Lilongwe): Malawi 2-2 Guinea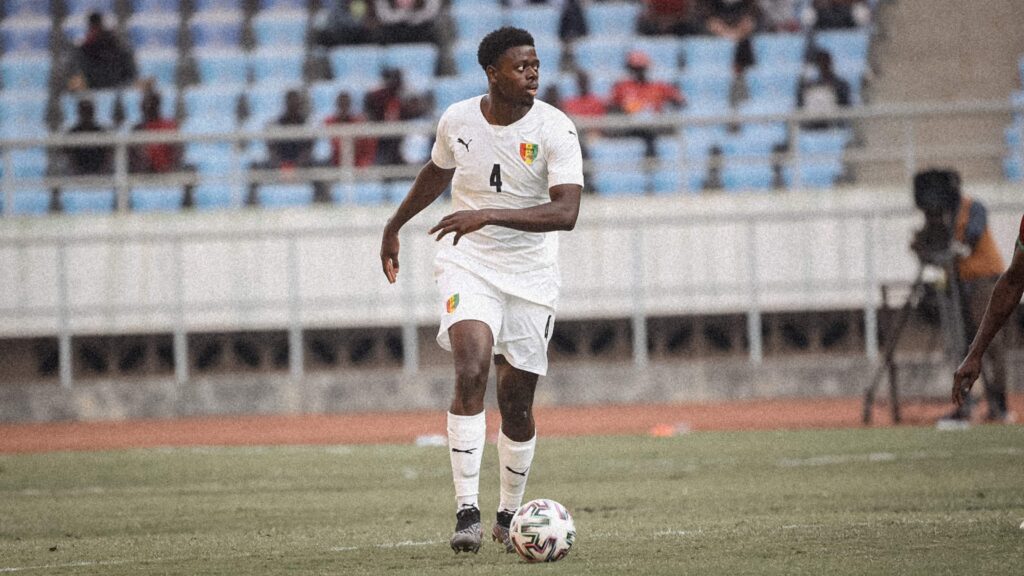 Steven Baseya – France U19
The trip to Serbia was generally positive for our number 25. A substitute during the opening defeat against Montenegro, Steven Baseya then started during the two victorious matches. Our central defender even provided an assist against Serbia.
The results:
09/07/2023 (Subotica): France 0-2 Montenegro
09/09/2023 (Subotica): France 2-0 Hungary
09/12/2023 (Subotica): Serbia 0-1 France
Habib Diarra and Robin Risser – France Espoirs (U21)
It was a successful debut with Les Espoirs for our two Strasbourg youngsters! Called up for the first time, they had a winning result with two wins in two matches. If Robin Risser, currently on loan with Dijon FCO, remained on the bench, Habib Diarra came on twice.
The results:
09/07/2023 (Nancy): France 4-1 Denmark (friendly)
09/11/2023 (Koper): Slovenia 0-4 France (Euro U21 2025 qualifying)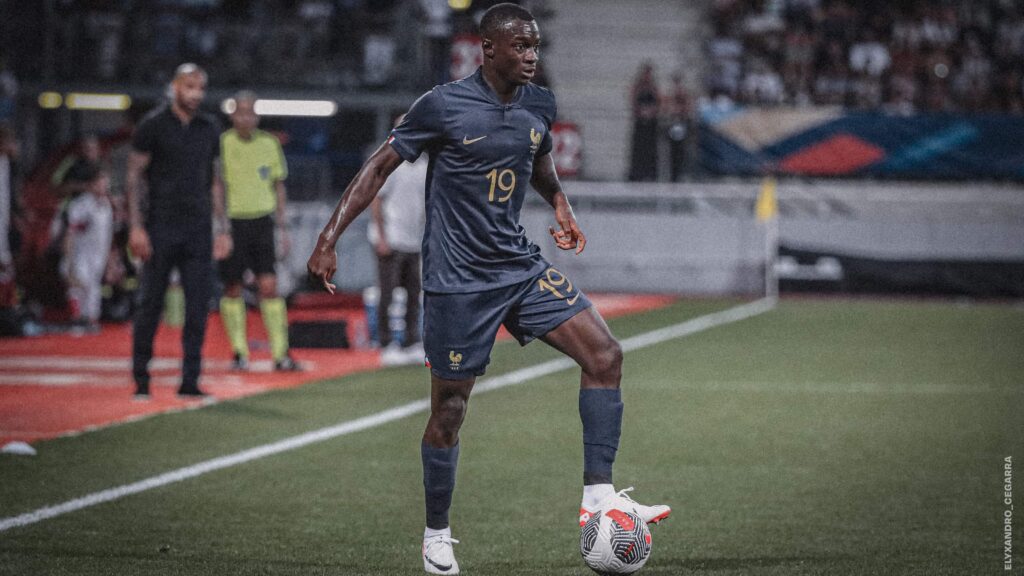 Sanjin Prcic – Bosnia Herzegovina
After a difficult win over Liechtenstein, Bosnia-Herzegovina lost in Iceland. These results have put the nation of Sanjin Prcić in some difficulty as they look to qualify for the Euros. Our number 14 was a substitute during both matches.
The results:
09/08/2023 (Zenica): Bosnia Herzegovina 2-1 Liechtenstein
09/11/2023 (Reykjavik): Iceland 1-0 Bosnia Herzegovina
Emanuel Emegha – Netherlands U21
It was also a perfect start for the Oranje of Emanuel Emegha in the race to qualify for the Euro U-21s. The big Strasbourg striker started in both matches.
The results:
09/08/2023 (Waalwijk): Netherlands 3-0 Moldavia
09/12/2023 (Skopje): North Macedonia 0-2 Netherlands
Lebo Mothiba – South Africa
Back with the national team, Lebo Mothiba had the pleasure of returning to the pitch with the Bafana Bafana. Coming on at halftime against Namibia, Lebo also played the last 20 minutes against the Democratic Republic of Congo.
The results:
09/09/2023 (Orlando): South Africa 0-0 Namibia
09/12/2023 (Orlando): South Africa 1-0 RD Congo
Samir El Mourabet and Oussama Lyaoubi – Morocco U20
The two players from the Racing Mutest Academy elite group were part of Morocco's U-20 squad. Samir El Mourabet started against Belgium.
The result:
09/08/2023: Morocco 0-2 Belgium
Nolan Ferro and Tidiane Diallo – France U18
Victorious in Limoges in a tournament, our two youngsters from Strasbourg played with the French U-18. While Nolan Ferro started against England, Tidiane Diallo was in the starting lineup against Portugal.
The results:
09/06/2023 (Limoges): France 2-0 England
09/08/2023 (Limoges): France 1-0 Portugal
09/10/2023 (Limoges): France 2-0 Japan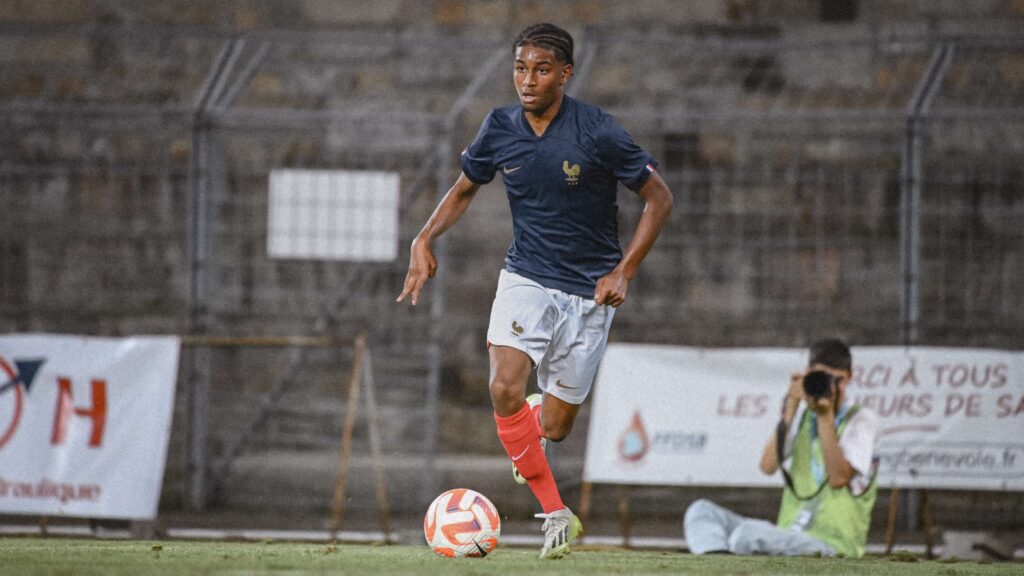 Mahamadou Kanouté – France U20
Called in as reinforcement following a withdrawal from the initial squad, Mahamadou Kanouté was not just there to make up the numbers, as our striker left Denmark with a double!
The results:
09/08/2023 (Soborg): Denmark 2-2 France
09/11/2023 (Soborg): Denmark 1-3 France