To coincide with the final match of the season at La Meinau, adidas and Racing have unveiled the club's new home shirt for the 2023-2024 season. It is now available exclusively in all our official shops: the Meinau stadium, the city center and the online shop.
For the first time in Racing's history, adidas has created a home shirt with a unique design, specially created for the club.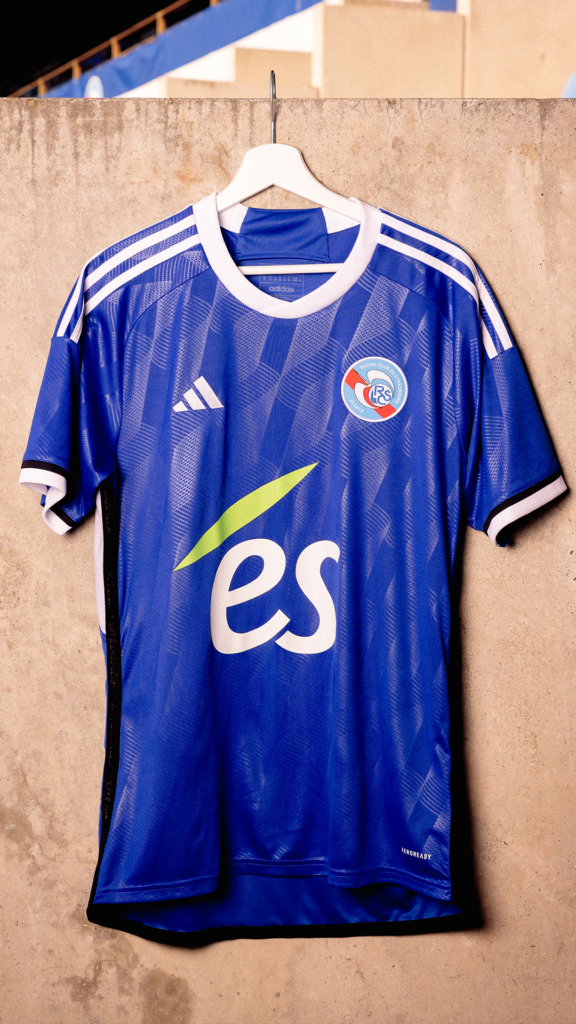 The new shirt celebrates tradition! Predominantly royal blue, it also features the traditional white at the bottom of the sleeves, on the sides of the shirt and on the collar. The collar has a retro feel, with references to the home shirt of the legendary 1978-1979 season.
The jersey stands out from its predecessors' thanks in particular to an embossed pattern that appears in relief depending on the orientation of the jersey.
The words "Jetzt Geht's Los" are inscribed in the material that makes up the black stripes and gives structure to the shirt, a special feature reserved for only a handful of clubs sponsored by adidas.
The words "Nous sommes pas onze mais des milliers" ("We are not eleven but thousands") remain on the back of the shirt, in a simplified and modernised font.
Finally, the club's logo has been created as a woven patch sewn directly into the material, and the adidas logo stands out from previous shirts with a more sober line that does away with the text in favor of the three stripes.
As has been the case for several years now, all adidas collections are eco-designed. This shirt is part of this approach, being made entirely from recycled polyester.
The 2023-2024 home shirt goes on sale in our stadium shop, our city center shop and our online shop!