The goalkeeper of AC Ajaccio between 2007 and 2012, the Alsatian Thierry Debès has been the goalkeeper trainer of the club for eleven years. For this goalkeeper with 50 appearances for Strasbourg, coming back to the Meinau has a special symbolism.
Tell us about your beginnings in football, back home in Alsace…
Born in Strasbourg, I grew up in Stutzheim, the first village "outside the CUS". I took my first steps in football in Dingsheim then Brumath, before joining a sport-study class. Everything started to get serious when Sporting Club Schiltigheim recruited me at the age of sixteen to be their goalkeeper, first in junior, then in CFA with the first team. I had no idea of being a professional one day. I was studying on the side, I just wanted to have a good amateur career.
For you, a child of Strasbourg, what did the "Racing" represent?
As a child, I often came to the Meinau with my father. I started in the early 1980s with Piasecki's team. When we couldn't come to the stadium, we followed the results in the press or on the radio. I loved it, it was my favorite club. When I was in my twenties, I watched Joel Corminboeuf a lot in goal. I admired his style. He was the first Strasbourg goalkeeper who inspired me.
When did Strasbourg become interested in you?
During my first senior season at Sporting, interest from other clubs started, although my father wanted me to finish my studies first. When Strasbourg contacted me, everything was accelerated by President Roland Weller. He was my President at Sporting a few years before and really did everything to bring me here. This allowed me to sign a one-year trainee contract at Strasbourg.
Roland Weller had a special importance in your football career…
Yes, I was very saddened by his death a few months ago because I knew him very well even before I turned pro. In the amateur world, he was very close to his players. It was him who allowed me to play at Sporting despite my young age. He did everything to get me into the first team because he believed in my potential. Later on, at Strasbourg, he always kept a close eye on my performances and my progress. If he hadn't been there, maybe I would never have made a career.
Pleasure first, then money
What were your first contacts with the Strasbourg professional team?
As soon as I arrived as a trainee in 1996, the coach Jacky Duguépéroux took me to Munster for a training course with the professionals. I was the third goalkeeper behind Alexander Vencel and my friend David Klein. In a few weeks, I had gone from amateur football to the professional world. The difference in work intensity was hard to handle. On top of that, it was the big team – which would win the League Cup the following year – with the likes of Nouma, Baticle, Raschke, Zitelli…
After the departure of David Klein, you become number two and you replace Alexander Vencel for a few seasons. Then Vencel signs for Le Havre, and you finally become a regular player…
Yes, Claude Le Roy installed me as a starter. The club put me in the right position to be fulfilled and to fully assume the role of number one. This allowed me to make my experience and my matches in Ligue 1. Afterwards, Chilavert arrived and I lost my place, but they gave their chance to a young keeper from the region, I do not forget it.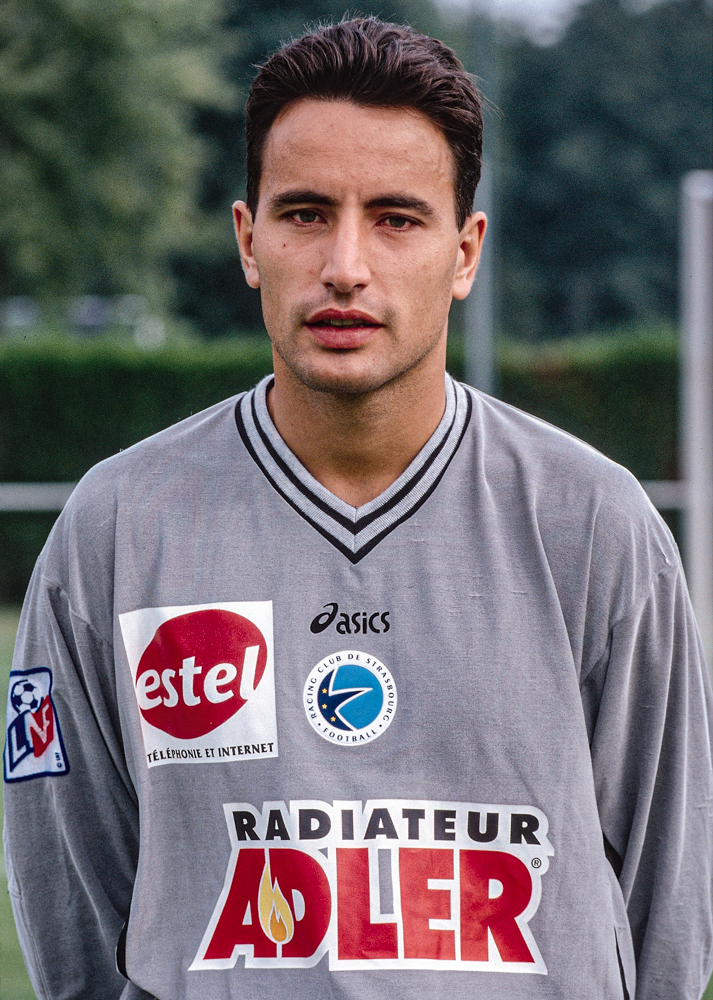 What memories do you have of your time in goal for your hometown club?
The first few months were idyllic because we managed to turn things around after a bad start to the season. It was great. There was the 16th final of the League Cup against Metz at the Meinau, where I stopped all the shots on goal. The second season was much more difficult because the results were not there. In the difficult moments, the Meinau was more hostile than today, and it was hotter for me too. In retrospect, you should only keep the good memories. Being number one and wearing the colors of my club, that will remain engraved.
The arrival of José Luis Chilavert changes the game…
Throughout my career, my goal has been to play and have fun. At 28, I couldn't see myself going back to being a substitute, and I was willing to make a big effort in terms of salary. Marc Keller was a manager at the club and he heard my request. So, I was loaned to Grenoble for one season before being transferred there. After that, I was number one in all my clubs, which was very important to me. The financial aspect was always secondary. I have no regrets about leaving Strasbourg because I have lived extraordinary stories.
"My children are two real islanders with Alsatian parents".
After Grenoble and Guingamp, you take up a last challenge at AC Ajaccio to finish your career. How did you get there?
I wanted to discover something else after Guingamp. Ajaccio offered me two years and of course, Corsica (he smiles) … It's attractive. This experience turned out to be extraordinary. I spent five seasons there as a player, culminating in a promotion to Ligue 1. I was the captain of the team. Finally, I played one season in Ligue 1 as Memo Ochoa's understudy and I retired.
Did you already have this desire to coach?
Yes, it's something I was passionate about quite early on. I passed the diplomas while playing in order to be ready at the end of my career. A career can put some people off football, but that wasn't my case. I really wanted to stay in the business because I am a real enthusiast. My coach Olivier Pantaloni and the President Orsoni trusted me and opened the doors of the staff for my reconversion. Staying in Ajaccio was an obvious choice for me.
You've been coaching the goalkeepers of AC Ajaccio for more than a decade. Does this life fulfill you ?
I like it a lot because the goalkeeper coach has one foot in the staff and one foot with his goalkeepers. I have coached many of them, from Ochoa to Leroy and Leca, and it has always been a pleasure. At Ajaccio, we always have something to play for, whether it's maintaining our position or going up (he laughs). There are always emotions. I am fully fulfilled in my job.
And on the family level?
My children arrived here when they were 5 and 2 years old, so you might as well say that they have lived here all their lives. They are true islanders, with a Corsican accent and the mentality of this region, but with two Alsatian parents. They have been coming to Alsace on vacation since they were little to see their family, they know it well. Today, our life is in Ajaccio.
The first leg, "an unreal evening of football"
After 16 years in Corsica, what is your link with this club?
You could call it a love affair. I love ACA, it's a club without means but with a family atmosphere unique in France. I believe that this does not exist elsewhere. It's real football and, deep down, maybe it's the one that suits me the most. Today in Ligue 2, we would only have the tenth largest payroll. There is no money but that doesn't prevent us from having an extraordinary working atmosphere. Everyone pulls together and pulls each other up.
Seeing AC Ajaccio go back to Ligue 1 last summer, for the club lover that you have become, it was a great moment?
In the city, there was a lot of excitement. It was exceptional. I experienced it once as a player and once as a staff member. In a career, that's not for everyone. There are so few resources in this club that every rise is experienced as a huge achievement. Here, with nothing, we manage to do something.
How is this return to the elite for you, from the inside?
We knew from the beginning that we would have to deal with an ultra-restricted budget because it is the history of our club. At the beginning of the season, we couldn't get any points despite some very interesting content. Then, at the end of the winter, we managed to get out of the relegation zone, despite the fact that the content was not so good. Now, for some time, we are really suffering because of all our injuries.
The first game was nightmarish for Strasbourg, but how did you live it on the side of the local?
It is one of those unreal evenings in football. Strasbourg, which is flying over the game, leads 2-0 and finds itself led in a few minutes. This sport can be incomprehensible. Sometimes you have a team that loses its footing and the other one that is on cloud nine. There were also some bad luck with those three penalties awarded by the VAR. For us, this evening was fantastic, unlike Strasbourg who must have had a hard time digesting it.
Roommate with François Keller at the training center
What is your opinion about Strasbourg this season?
With the team they have, I never thought they would be stuck in the bottom of the table for so long in the season. I've also had years like that where you miss your start in the league and you can't get out of it. When you don't expect to play for the championship, it's very hard. We knew it from the beginning, there is no surprise. With the potential and the quality of this team, I think that Strasbourg will succeed in maintaining itself.
Does coming back to the Meinau mean anything to you?
I came back several times as a player and once in the staff. It's a special game for me. It's the club of my childhood and my adolescence, there will be all the family and the in-laws in the stadium. I would have liked to come back with a little more at stake. It's not going to be easy to get a result, we know that it's going to be crazy and that the public is going to push hard. We're going to hang on to bring something back even if we know that it will be very difficult.
Are there any faces that you will enjoy seeing again?
There will be Marc Keller of course, and then his brother François, my friend from the training center with whom I shared a room. There is of course Guy, the team manager, who has been a friend since he was a child, Jean-Marc Kuentz, the physiotherapist Eric Moerckel, the doctor Pietra… It's been a long time since I left, but I still have friends at the club. This means that Strasbourg respects its most experienced members. It's a pleasure to come to Strasbourg and see everyone again.