Sabryna Keller, president and founder of the Femmes de Foot Association – which embodies the important societal dimension and civic aspect of Racing Club Strasbourg Alsace – was chosen to chair the Combativeness Award panel of the Tour de France Femmes with Zwift and be its ambassador. The prize, sponsored by the Grand-Est region – particularly popular with runners – is
awarded at each stage of the race to the most competitor rider. It's also an opportunity to highlight the Grand-Est region's commitment to combating violence against women and promoting equality between women and men.
As president of the Femmes de Foot Association, Keller leads these fights on a daily basis and her appointment as ambassador of the prize thus takes on its full meaning. "I'm very honoured to have been chosen. For more than ten years with the Association and Racing – beyond our charitable and solidarity operations – we've been promoting the place of women in society and supporting actions of diversity, whether it's access to practice whichever sport, access to roles in the authorities or within companies, but also the exposure of sport. We're on all fronts, to act in favour of living well together."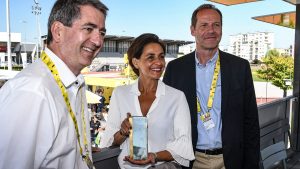 The Tour de France Femmes with Zwift starts on 24 July and ends on 31 July, with eight stages including five in the Grand-Est region, which is working hard to promote and develop the practice of cycling. Keller added: "It's also an effective tool in favour of the environment, an important fight in which each of us must take part. And this prestigious event is a real step forward, because it marks progress: that of the Tour de France Femmes. It brings together the greatest cyclists, allowing them to make a better living from their passion, but it also gives them an important societal status by setting an example for many young girls."
The rider who receives the Combativeness Award will be recognisable in the peloton by wearing a red bib. For the final stage of the race on 31 July, the Super Combative award will be given to the
rider recognised as the most worthy over all of the eight stages. The winner will be chosen by the jury in which, alongside Keller, is notably the former professional cyclist Laurent Jalabert.